An Overachieving Underpass
Designed by SEH, Inc., the Fenwick underpass on old U.S. Highway 53 known as Hastings Way in Eau Claire, Wis., provides a safe crossing for pedestrians and cyclists in a high traffic area. Tiered segmental retaining walls with plantings make the entrances inviting for passersby and match hardscapes at the adjacent streets and shops.
Multi-level walls provided a visual contrast to the six-foot-high retaining wall at street level. Trees, plants and shrubs planted within the tiers create an interesting, inviting entrance and mitigate stormwater overflow, assisting with runoff handled by the municipal storm system that runs beneath the underpass.
The project uses the VERSA-LOK Mosaic wall system that employs two Accent units, one Cobble unit, and one Standard unit, combining about 4,200 wall panels into 6,800 square feet of four-unit panels that create a random face pattern. The wall units have low absorption and require little maintenance.
"Design flexibility in this project was important, since the product can do step­-ups and step-downs in 10-inch, 6-inch and 4-inch increments," said Jason Rexine, manager of Versa-Lok contractor sales in the Minneapolis-St. Paul area. "With the school and residential areas surrounding it, the underpass and its inviting entrance is a great solution for this redesigned urban street."
Gary Hansen of Hansen Land Construction of Eau Claire completed the turf restoration, tree planting, finished landscaping and hardscapes for the street redesign. "The design of tiered, planted walls gives the underpass entrance a welcom­ing, visual appeal from street level to below ground," said Hansen.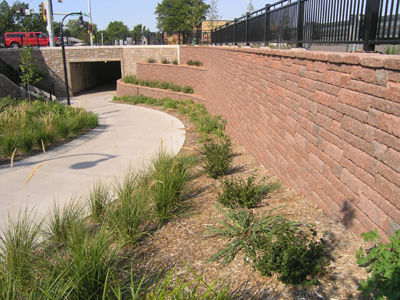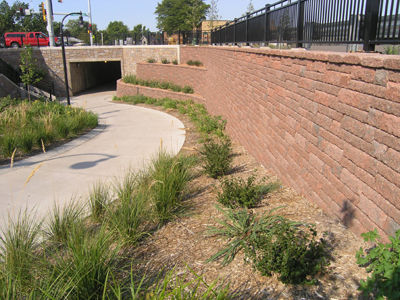 This tunnel has a beautiful entrance.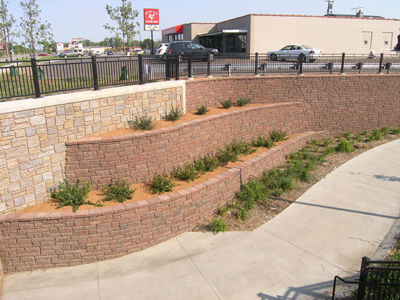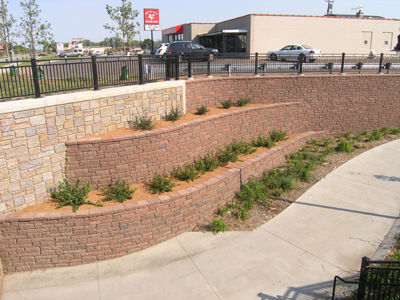 Tiered walls with plantings provide a transition to the tunnel.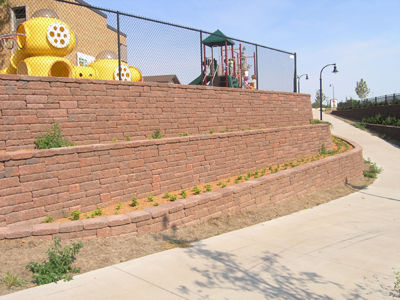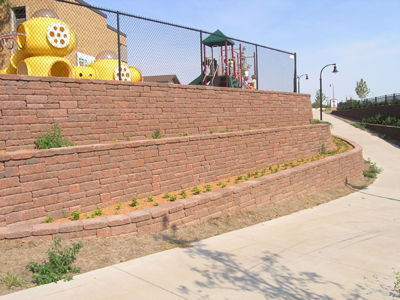 Fall protection safeguards the day care center above and provides a safe way to cross the busy highway.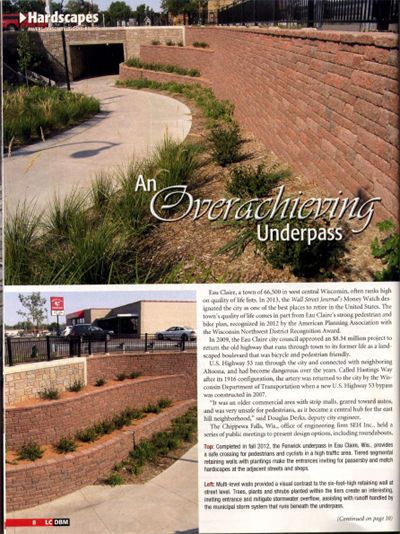 Landscape Contractor Mag Article